Welcome to the Institute for Space and Nuclear Power Studies
Welcome to the Institute for Space and Nuclear Power Studies (ISNPS). ISNPS was founded in 1984 as a research and development organization within UNM's School of Engineering with a focus on space power and propulsion technologies and related fields. ISNPS offers educational and professional training and conducts research in many fields of space nuclear power and space systems technology in cooperation with UNM's Department of Chemical and Nuclear Engineering.
Recent News
---
Founding Director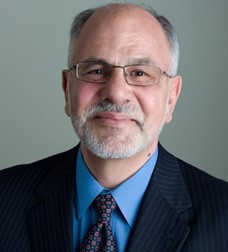 Regents' Professor Mohamed El-Genk, Regents' Professor of Chemical, Nuclear and Mechanical Engineering and the Founding Director of the Institute for Space and Nuclear Power Studies has been named the recipient of the 2010 Donald Q. Kern Memorial Award by the Transport and Energy Process Division of the American Institute of Chemical Engineers. This award given in honor of Donald Q. Kern, a pioneer in process heat transfer, is one of the most prestigious in the world in recognizing significant contributions to the fields of applied heat transfer or energy conversion or in the translation of research results into useful technological applications. Dr. El-Genk joined the recognized leaders in the field of heat transfer who received this award since 1974.
Dr. El-Genk is a fellow of the American Nuclear Society, the American Society of Mechanical Engineers, the American Institute of Chemical Engineers, and the International Association for the Advancement of Space Safety, and an associate Fellow of the American Institute of Aeronautics and Astronautics. He is a member of the Assembly of the International Heat Transfer Conference (IHTC), the Organizing, Steering and U.S. Scientific committees of the 2010 14th IHTC, and the Scientific Committee of the International Center for Heat and Mass Transfer.
---
Important - Research Assistantships Available as of Summer 2013
A number of Research Assistantship positions will be available for qualified graduate students to pursue a PhD in Nuclear, Chemical or Mechanical Engineering starting the summer or fall 2013. We are looking of outstanding candidates with demonstrated experience in one or more of the following areas:
Computational Fluid Dynamics (CFD) and simulation of complex fluids;
Thermal Sciences, advanced cooling, and thermal management of space systems;
Nucleate boiling enhancement and two-phase flow in macro channels;
Experimental methods and advanced instrumentation;
Microfluidics and gas adsorption experiments and techniques;
Electrochemical deposition and synthesis of Nano- and micro-porous surfaces;
Nuclear fuel, reactor materials, and corrosion and blistering solutions;
Nuclear graphite irradiation and gasification kinetics;
Space Nuclear Power;
Dynamic simulation of energy systems;
Neutronics and reactors thermal-hydraulics and safety analyses;
Small modular reactors;
Dry casks for interim storage in dry casks;
United States citizens are strongly encouraged to apply, but strong and experienced international students will also be considered. Those interested please send a letter of interest, C.V., copies of recent publications, names and contact information for three references as email attachments to: mgenk@unm.edu.
---
Breaking News - Boyce W. Travis successfully defended his Master's Thesis, titled "An Effective Methodology For Thermal- Hydraulics Analysis Of A VHTR Core And Fuel Elements."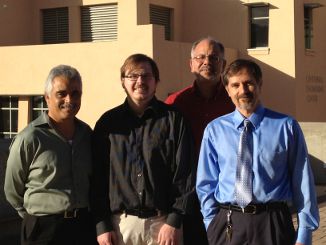 On Monday, 26 November 2012, Boyce W. Travis (middle front), a Research Assistant with the Institute for Space and Nuclear Power Studies, successfully defended his Master's Thesis in Nuclear Engineering. Thesis committee included Research Assistant Professor Jean-Michel Tournier (front right), Adjunct Associate Professor Sal Rodriguez (front left), and Committee Chair and Thesis Advisor, Regents` Professor Mohamed S. El-Genk.
Click here for the full article
---
Research Team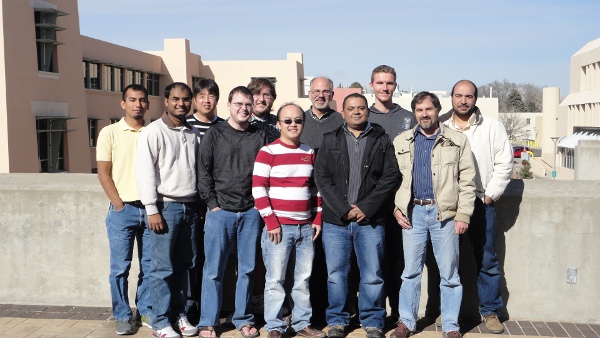 The ISNPS group picture taken in February of 2012 outside of Farris Engineering. We currently consist of several graduate students and two faculty members. To view each person individually, you may view the faculty and student indices.