6/10/2020
UNM-ISNPS makes a strong presence at national meeting
12/14/2019
Masters Graduation - Raymond Fasano
8/31/2019
Forbes.com writes about ISNPS's SLIMM and VSLLIM reactor concepts
8/6/2019
ISNPS research highlighted at Cybersecurity Research Spotlight Forum

Ragai Altamimi
Research Assistant
Research Topic: Cybersecurity of nuclear power plants
Graduate Student working toward Ph.D.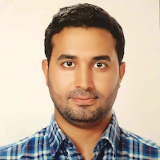 ---
Education
M.S. Advanced Nuclear Systems Engineering, Korea University of Science and Technology, July 2014
B.S. Nuclear Engineering, Jordan University of Science and Technology (JUST), July 2012
Research Projects
Ragai's research is related to nuclear safety analysis and reactor systems modeling. Part of his research involves developing nuclear reactors systems models used for studying systems transients and the behavior of nuclear power plant I&C systems under cyber-attacks.
Ragai's research also includes designing and testing pumps for liquid metals loops, including Electromagnetic pumps. Electromagnetic pump is a pump that moves liquid metal (or any electrically conductive liquid) using electromagnetism. It has no mechanical parts and has extremely low risk of liquid leakage, and it requires little maintenance, which gives advantages for the use in space nuclear reactors, and liquid metal nuclear power plants.
&nbsp
Contact
List of Publications
Altamimi, R, El-Genk, MS, Schriener, TM, Pressurizer Model and PLCs for Investigation of Cybersecurity of PWR Plants. In Trans. ANS 2020, 2020.
El Genk, M.S., T.M. Schriener, R. Altamimi, A. Hahn, C. Lamb, R. Fasano, NICSim: Nuclear Instrumentation & Control Simulation For Evaluating Response To Cyber Attacks. Proceedings of the 2020 28th International Conference on Nuclear Engineering Joint with the ASME 2020 Power Conference IC, 2020.
---

Back to Student Index