6/10/2020
UNM-ISNPS makes a strong presence at national meeting
12/14/2019
Masters Graduation - Raymond Fasano
8/31/2019
Forbes.com writes about ISNPS's SLIMM and VSLLIM reactor concepts
8/6/2019
ISNPS research highlighted at Cybersecurity Research Spotlight Forum

Asmaa Salem
Research Assistant
Research Topic: Cybersecurity of nuclear power plants
Graduate Student working toward Ph.D.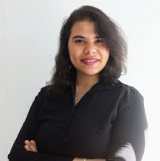 ---
Education
B.S. Nuclear and Radiation Engineering, Alexandria University, 2019
Research Projects
Asmaa Salem is a graduate research assistant with ISNPS in the nuclear engineering department. She received her Bachelor of Science from Alexandria University in Nuclear and radiation Engineering. Since 2017, she has been doing research in the field of safety and severe accident of nuclear power plants and joined the IAEA for one-year internship as part of the Nuclear Power Technology Development Section (NPTDS) in the Nuclear Energy department. Currently, Asmaa's research is focused in the cybersecurity of the instrumentation and control systems of nuclear power plants.
&nbsp
Contact
List of Publications
---

Back to Student Index